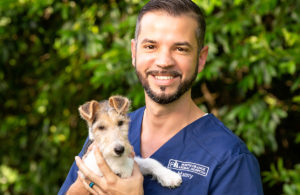 Manny is one of our fabulous Veterinary Technicians. He has strong Cuban roots and grew up in Miami, Florida, where most of his family still lives. He moved to Orlando with his fiancé in 2019. Manny says he was born an animal lover, and has worked in the veterinary field for 21 years. He is the proud pet-dad of an 8-year-old American Bulldog and a 7-year-old long-haired cat.
In his spare time, Manny loves exploring the outdoors. He and his fiance can't get enough of being in nature, and of course as a Miami native, he loves the beach! In his upbringing, Manny says there was never a dull moment. He enjoys spending time with his tight-knit family, who love making memories together.
Manny's favorite thing about working at NOAH, is the valuable relationships he has already created with his co-workers, clients, and their pets. He prides himself on treating every pet who comes in, as if they were his own. With so much longevity and enthusiasm for his work, we are so glad to have Manny on our team at NOAH!