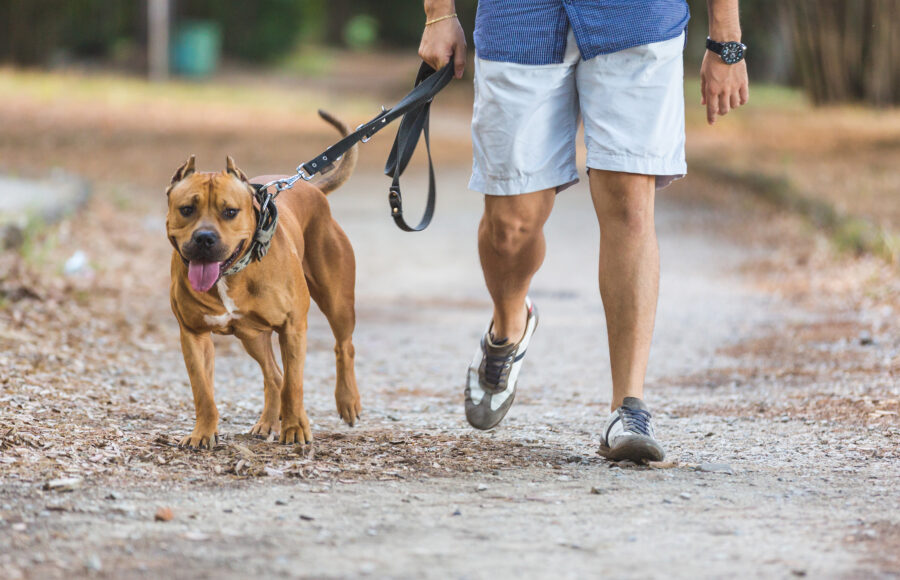 5 Reasons To Walk Your Dog
Here are 5 reasons to start walking your dog every day.
Improving Socialization A dog loves and feels safe in their own home, but there are times when he/she will need to leave with you. The less you bring your pet out for interaction with other people and animals, the harder time it will have each time it leaves the house. Taking your dog for a walk is a simple way to help him/her feel safe, normal, and even excited when coming across new faces both human and animal. Who knows, your pet may even find a new best fur friend on their walk through the neighborhood or to the park.
An Easy Way to Exercise  Just like humans, dogs who exercise tend to live healthier, longer lives. A long or short walk each day has health benefits for both the owner and the pet. Studies have shown that a 30 minute walk, three times per week can reduce blood pressure, increase energy, improve sense of well-being, and lower your weight by 5% and your dog's by 15%.
Stress Management & Behavior Improvement  Any activity is good to decrease your pet's boredem and give them the attention they crave. Daily walks will keep your pup will be happy and you'll be thankful for the improved behaviors around the house.
Getting Familiar with the Area Dogs depend on sights, sounds, and mainly smells to recognize where they are. Taking them for walks around your neighborhood will make them comfortable with the area, and could help them find their way home in case of an emergency.
Creating a Bond Taking your dog for walks is an easy activity that helps let them know you care. Dogs are curious and loyal animals who will enjoy seeing the world with you. Walking or exercising alone can be lonely, and it's always more fun to have a partner to share it with, so why not share it with your dog!