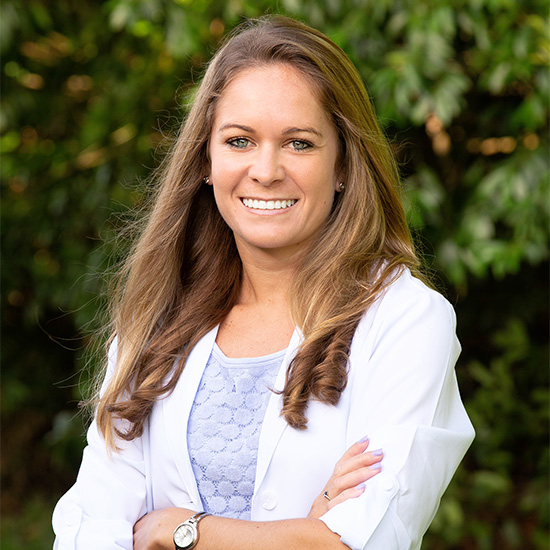 Dr. Jaclyn Melicharek-Grogan, a Central Florida native, has fostered a love and passion for animals since she was very young. Being a native to the area, Jaclyn loves outdoor activities like running, going to the beach, and stand-up paddle boarding. When she's not outside, you can find her in the kitchen baking! She is the proud owner of a loving Australian Shepherd/Catahoula mix named Kona.
Dr. Jaclyn received her undergraduate degree from Brown University, graduating with highest honors and a concentration in biology. She then graduated from the University of Florida College of Veterinary Medicine as Valedictorian, receiving her Doctor of Veterinary Medicine degree and a certificate in Veterinary Business Management.
Dr. Jaclyn is Fear Free certified which means she is professionally trained to handle a pet's anxiety and nervous tendencies, especially as he/she visits the Veterinarian's office.  Providing low stress and positively rewarding visits for all pets is Dr. Jaclyn's goal. Her special interests include internal medicine, surgery, neurology and dentistry. All of which combine well with her desire to offer the best possible medical attention.
Her kind and patient nature toward animals, along with her professional experience in understanding their emotions help bring peace to animals and their owners as they visit NOAH. These qualities make for a smooth process in diagnosing and treating all of our patients.  With an impressive educational background, and the most up-to-date knowledge of veterinary medicine, Dr. Jaclyn brings a fresh perspective that perfectly rounds out our team at NOAH.