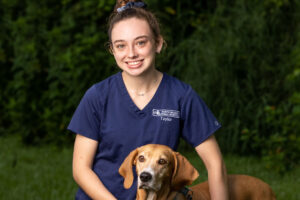 Taylor was actually born and raised in APOPKA! She joined NOAH in the summer of 2021 as a Kennel Tech. We met Taylor as a result of her coming in so often with her mom and all of their farm animals raised right here in Apopka.
Taylor has a deep love for animals which include horses – she rides as often as she can. She and her mom have 3 dogs, 2 cats and 2 horses. Her dog Summer is pictured with her. When Taylor rescued Summer 2 years ago, Summer was malnutritioned and very skinny. She is now a happy, healthy part of the family.
Taylor loves interacting with all of the patients at the hospital and is extremely happy to help with the big things and little things – even loves to do nail trims! Everyone at NOAH appreciates her sweet smile and spirit.