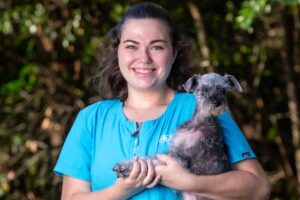 Summer is one of our Kennel Personnel who is a 23-year Central Florida native. She lives close to her family and is a proud aunt to 3 nephews, and is still hoping to add a niece to the mix!
Summer is a pet-mom to 2 cats, Myles and Gabby, and Diamond, a 13-year-old Chihuahua. She holds a special place in her heart for her dog Artie, whom she will never forget and always love. In her spare time she loves to relax with her cats and walk her dog as much as she can!
Helping the hospital run smoothly, as well as assisting animals in any capacity is what Summer loves about her job. You can find her working hard to soak up every part life as NOAH employee and an animal care-taker!