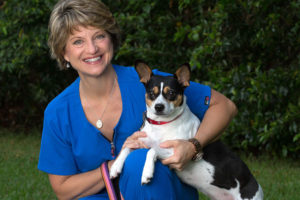 Meet Lorrie Bearden, our Practice Manager! Lorrie has been long happily married to Dr. Bucky Bearden and is the proud mother of 3 wonderful sons and 2 amazing daughters-in-law. Lorrie's oldest son Chad and his wife are currently living in Pittsburgh as practicing veterinarians, her middle son Bryan and his wife and youngest son Brett all live and work in the Central Florida area, much to Lorrie's enjoyment. Lorrie has been in Florida since 1987, but was born and raised in Baton Rouge, Louisiana. She has passed her love of all things Louisiana to her sons, as her southern roots are a large part of who she is today. On weekends you can find her enjoying something southern she and Bucky have cooked up, and always cheering on the LSU Tigers!
Hattie Mae is Lorrie's rescue dog from Baton Rouge. She was flown to Orlando by a special family to be treated by Bucky, but once Lorrie saw her she fell in love. Now Hattie is a part of the Bearden family, and is an expert cuddler and ball catcher! Over the years Lorrie and her family have had several loving Golden Retrievers and a very special cat named Katie. With the purchase of the hospital, they look forward to the day of being able to rebuild a family of multiple animals at home. In her spare time Lorrie enjoys reading, seeing movies, and mostly spending time with family and friends over a great meal. 
Lorrie sincerely loves the people she works with and the incredible clients she gets to meet and see everyday. For her, working with animals is a "down-to-earth," business and seeing the work of NOAH's clinic team and veterinarians is both humbling and heart-warming. Although many clients are thankful when they leave with a healthy animal, Lorrie feels she is the one who receives a gift, seeing so many people have huge hearts and care so much for their pets.