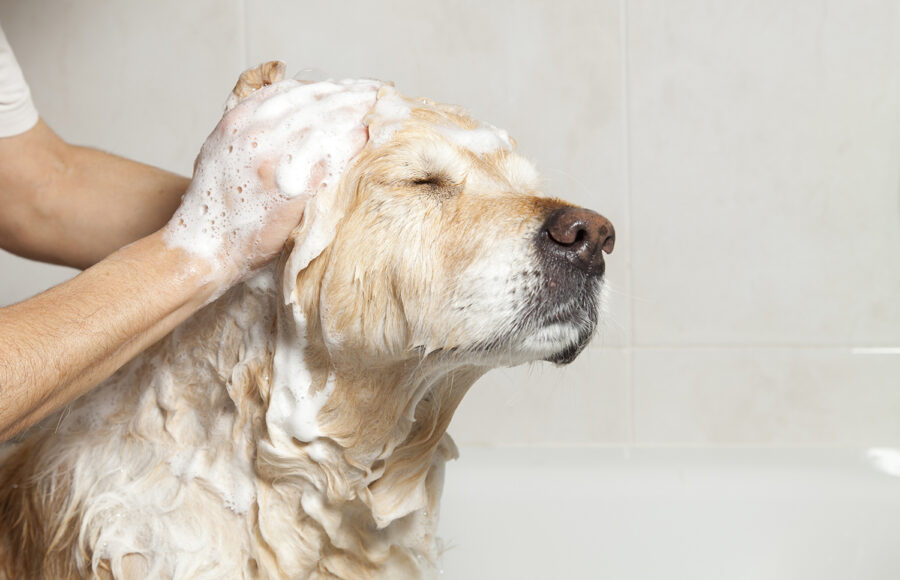 Tips For Washing Your Dog at Home
With businesses closing, that means our normal ways of grooming ourselves and our pets may not be available. Over the next month, while many of us are at home with our pets, and giving them even more time outside, they will eventually need to be bathed! Along with regular flea and tick medicine to avoid heartworms and other complications, our dogs need to be bathed at least once per month to avoid skin irritation, normal dirt and dander from playing and sweating, and matting fur. Aside from the normal reasons for bathing, who doesn't love a fresh smelling, shiny pup!?
Simple Tricks to Make Dog's Bath Time Easier and Faster
Brush your dog before bathing – When you brush your dog's coat before the bath, it helps work out mats, before water sets into them. Once a matted area is wet, it is much harder to remove. It also helps brush out excess dirt and open space for shampoo to work into the coat.
 Get the right shampoo – Shampoo for people cannot be used for pets. Dog shampoo has a different Ph level that works specifically for him/her. There are also tear-less shampoo options to use on your dogs face to avoid getting painful soap in their eyes. If your dog has a skin allergy or irritation, you may want to talk to the vet about what specific shampoo will be best for their skin issues.
Stock Your Station – There's nothing worse than being ready to get started washing or drying when you've finally got your dog still, and realizing nothing is within reach. Get all of your supplies nearby and ready to grab so you can take care of each job quickly enough that your pet cant try to make a break for it.
Don't Miss a Spot – Since dogs stand with their bellies down it's easy to miss what's underneath. Be sure to wash back, belly, paws, chest, head, and tail, backside. When you wash the shampoo out, be sure to wash with AND against the fur to make sure you get all the shampoo out, until the water runs clear.
Dry Properly (DONT miss the ears!) – If you can get your pet to sit still for a blowdryer, that's great! Be sure to keep the temperature low, as their sensitive skin will not enjoy the high heat settings. Be sure to blowdry against the fur to make sure any water hiding underneath comes out. Most likely though, you will be using a towel. Depending on your dog's size and fur you may want to have multiple towels to dry your dogs face, body, legs, and ears. DO NOT MISS YOUR DOG'S EARS. Be sure to dry the outside AND inside of your dog's ears. Leaving excess water in your dog's ears can cause problems such as infection and irritation.